Project 2017: Heartfelt-passion, Heaven and Hell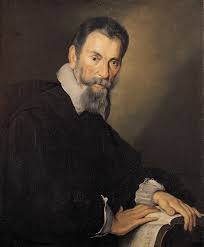 In 2017 it is 450 years since the birth of Claudio Monteverdi (1567 – 1643). With its new project entitled "Heartfelt-passion, Heaven and Hell", Key2Singing wish to therefore place an emphasis not only on the performance of Monteverdi's madrigals and motets, but also on those of his extraordinary contemporary Carlo Gesualdo (1566 – 1613). In doing this we wish to explore the comparisons and differences and influences of these composers, by means not only of choral performance, but also by challenging secondary school students to bring these themes to life by means of painting and sculpture, which shall be exhibited during our performances. In addition our performances shall be theatrically choreographed to allow the singers to use the space available as an additional means of expression. We shall also make use of a dynamic (professional) instrumental accompaniment or a-capella settings of the various works. The choir shall be made up from experienced and very experienced amateur singers, in the age range from 20 to 65, and who preferably have also either solo and or theatrical stage experience. The music itself is challenging, and requires a significant commitment to master and perform well. You are expected to study your music at home and come to rehearsals knowing your notes and already prepared to work directly on the polyphonic performance and interpretation of the music. With sufficient experience and technique we invite you to audition either for a choral or a solo role in the performance. By solo we mean that you will perform in a choral quartet or quintet sustaining a single voice part on your own. While in the choral role you will be at least two persons per voice part. All singers will be coached and led by our artistic leader Margot Kalse, and those singing solo parts will be provided with extra vocal training to allow them to master the style and techniques needed to perform this challenging but fantastic music. Watch and listen (Dutch spoken) for some background information and a small impression of our progress towards a stage performance!
We kindly request a moment of your patience for the video to load. The entire project is under the musical and artistic leadership of Margot Kalse, the well-known Leiden based singing teacher, vocal soloist and specialist in the field of early music, Gregorian chant etc etc. Planning: Auditions shall be held in the second half of November 2016. The audition material shall be taken directly from the project repertoire. For choral participants you shall receive one piece to prepare. For soloists you shall prepare two pieces, one choral and one solo. Rehearsals begin on Sunday evening 22nd of January 2017 from 19:30 to 22:15 in Leiden, and shall continue on a weekly basis thereafter until the performances in May and June and shall resume after the summer break at the end of August in preparation for the final performance(s) in September. A dedicated intensive study weekend is planned to take place in Elsloo (NL) in May 2017 in order to ensure we are performance ready and have adequately mastered the full repertoire. We aim for local performances there shall be an integral part of the learning process. The costs for this study week are exclusive of the project subscriptions. From experience we estimate that accommodation and meals for the week shall be at least €200. The accommodation shall be organised by Key2Singing. You are free to organise your own travel independently or in collaboration with the other participants.
Activities
- January - Juni 2017, rehearsals
- 25-28 May 2017 workshop Elsloo (NL-Friesland), Publication website Elsloo (Dutch)
- 4 and 5 June 2017 Pieterskerk in Leiden (Hofjesconcerten), click here for more information about the Leidse Hofjesconcerten 2017 (Dutch).
- June 2017 Elderly homes in Leiden and Rijswijk
- 16 september 2017 Diligentia The Hague
- 23 September 2017 Stadsgehoorzaal (aka Aalmarktzaal) Leiden, order your tickets here!